The Big Problem
My research focuses on the intersection of two complex problems—low physical activity levels (WHO, 2022) and rising mental health unwellness (WHO, 2023). Depression and diseases of the mind-brain are the fastest-growing and most economically and sociologically burdensome noncommunicable diseases (Chen et al., 2018). According to the World Health Organization, depression is the leading cause of disability worldwide and affects more than 280 million people (one in four people, with 23 million being children and adolescents). When factoring in stress, anxiety, social, and other mental unwellness issues, the average rises to 970 million people or one in eight. Furthermore, projections indicate that by 2050, 153 million people worldwide will be living with dementia, a degenerative brain disease affecting thinking, memory, independence, economics, and social abilities (Nichols et al., 2022).
---
The Good News
The good news is that neuroscience research reveals that physical exercise benefits mind-brain health and well-being (Hall et al., 2018; Lee et al., 2019; WHO, 2022). Exercise increases blood supply to the brain, improves cognitive function in older adults, elevates executive function in children, boosts mood, reduces the risk of experiencing cognitive loss and impairment (e.g., dementia and Alzheimer's Disease), and reduces depression. Though the exact causal mechanisms are still poorly understood, the findings are clear—exercise benefits mental health. The evidence of these benefits is widely accepted across multiple research disciplines, so much so that some researchers are advocating for incorporating physical activity as adjuvant therapy in standard mental health care practice (Stubbs & Rosenbaum, 2018).
---
The Bad News
The bad news is that despite an abundance of health campaigns and educational resources clearly stating the benefits of exercise in health promotion and disease prevention, these programs have primarily been insufficient at changing behaviors, and consequently, global physical activity levels remain low (Barreto, 2013; Ekkekakis, 2017). When assessed using self-reports, estimates show that only 30-50% of the adult population in the United States is adequately active (Carlson et al., 2009). When assessed using objective measures (such as accelerometers that can track activity), the sufficiently active estimate changes to 3.2 to 9.6% of the adult population (Tudor-Locke et al., 2011). Key to the origin of my research is that even when people start an exercise program, dropout rates are high (Marcus et al., 2006; Sperandei et al., 2016).
The Problem in Practice / A Call to Action
A detailed ecological systems theory analysis (see my dissertation) of the big problem, the good news, and the bad news prompted me first to explore why health promotion campaigns might not be working, why exercise is challenging for human beings from an evolutionary biology perspective, and why dropout rates from exercise programs are high. Ultimately, I wondered: If people who start exercising drop out at high rates, is it possible that the exercise practices we've come to accept as "the norm" are unintentionally contributing to low population physical activity levels in some unforeseen way? In other words, could low physical activity levels somehow be an unintended consequence of how we teach, message, prescribe, and attempt behavior change in exercise settings? If so, can we identify potential contributing factors and target interventions at better ways of teaching and thinking about exercise for sustainability? Eventually, might we get people to associate movement with mental health and normalize it as an accessible mental health tool?
Reimagining How We Teach Exercise: The Brain-Body Fitness Framework
My research combined multiple lenses of neuroscience (affective, cognitive, social, psychological, and exercise) with educational theory and practice. It resulted in the construction of The Brain-Body Fitness Framework (B-BFF) ©, a neuroeducation-inspired framework for reimagining how we teach exercise. Domains of the framework address each of the potential contributing factors to low physical activity levels and sustainability with evidence-based teaching methods targeted at each element. Following the construction of the framework, I conducted a qualitative case study to explore the exercise experiences of fourteen women who voluntarily participated in group exercise classes instructed using the framework. Stay tuned for a description of the B-BFF and highlights of the case study findings!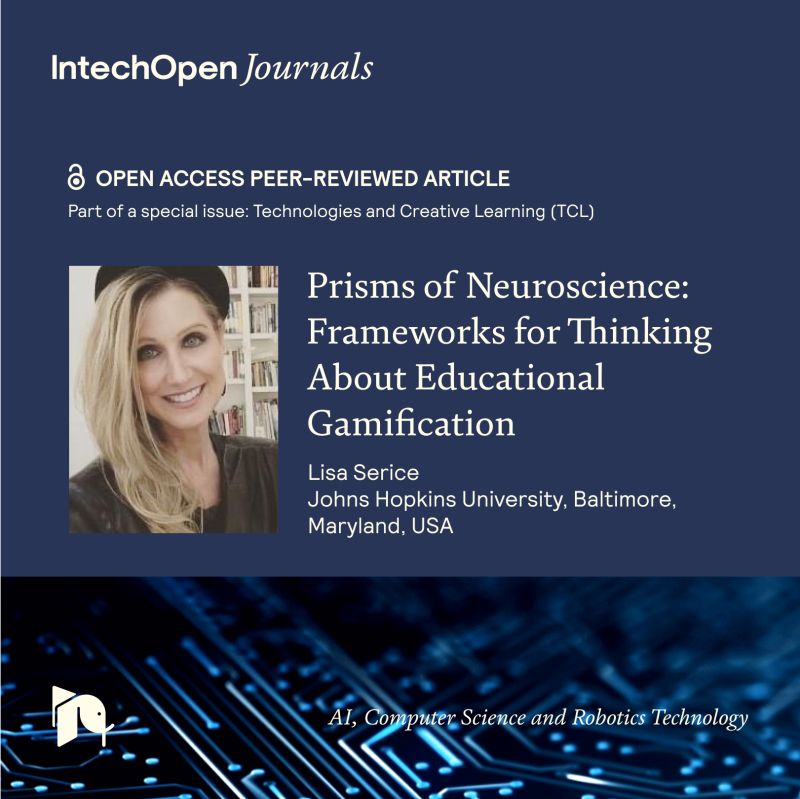 My Publications
Serice, L. (2022). Neuroeducation and exercise: A Teaching framework for multidimensional well-being and exercise sustainability (Doctoral dissertation, Johns Hopkins University). https://jscholarship.library.jhu.edu/handle/1774.2/67439
Serice, L. (2023). Prisms of neuroscience: Frameworks for thinking about educational gamification. AI, Computer Science, and Robotics Technology. https://doi.org/10.5772/ACRT.13